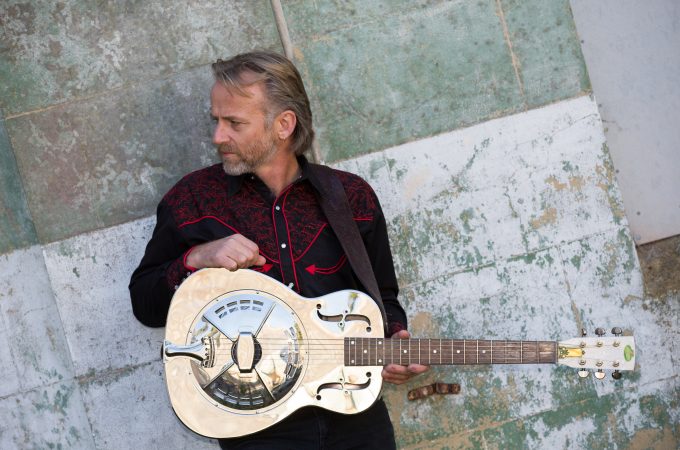 Geoff Achison
Friday
28 Jan
11:00 pm - 1:00 am
Lounge Bar
Saturday
29 Jan
7:00 pm - 9:00 pm
Sante
Sunday
30 Jan
3:00 pm - 5:00 pm
The House of Ullr
Songs & Stories from one of Australia's most respected blues/roots trailblazers
In 1995 Geoff Achison represented Australia at the International Blues Challenge, staged in Memphis Tennessee, USA. Playing solo with a cheap acoustic instrument, he stunned the judges with his guitar & songwriting skills and brought home the coveted 'Albert King Award'
***
Geoff is now one of Australia's most highly regarded blues/roots musicians.
Through relentless touring he has successfully established himself on the UK, US & OZ blues/roots performing either electrified with his 'Souldiggers' or simply solo with his prized Gibson guitar.
In his popular solo acoustic shows, Geoff treats his guitar like an orchestra creating rich, sweeping chords, and cascading arpeggios. He shuns the use of loops or gadgets, relying solely on hard-earned skill and a heart full of soul.
***
His 2017 studio album Another Mile Another Minute featuring his band The Souldiggers won 5 'Chain' Australian Blues Awards. His current album Sovereign Town was recorded in Ballarat, Victoria with Geoff's songwriting and acoustic guitar work taking centre stage. It has proved to be his most lauded recorded work yet.
***
In 2020 Geoff was inducted into the Blues Music Victoria "Hall of Fame" joining the likes of Dutch Tilders, Phil Manning & Chris Wilson.
REVIEWS
"Geoff is one of the finest blues guitarists I know, with a completely individual style"
Jorma Kaukonen (Jefferson Airplane)
"Never, ever miss an opportunity to see Geoff Achison live" Ron Currens (Hittin' The Note USA)
"One of our Top 50 Australian guitarists" Aust Guitar mag "Catchy, intelligent songwriting" Downbeat magazine USA "Part New Orleans funk, hard blues and soul –
they are all done impeccably." – Rob Dickens AU "Exquisite and timeless.
I love this album from start to finish"- Phillip Smith "Geoff Achison's craftsmanship on the new record is near flawless" – Forte Magazine
"Following in the steps of Neil Young and Bruce Springsteen, Geoff has created some of his finest work extolled in the stripped-down song-craft of 'Sovereign Town' – Billy Pinnell
AWARDS / ACCOLADES
2020 Blues Music Victoria Hall Of fame Inductee
2018 VicTas Blues Awards Solo Act of the year
2017 VicTas Blues Awards Band of the year (The Souldiggers) 2017 Chain Blues Awards Artist/Album/Song/Group/Producer 2013 VicTas Blues Awards Album + Band of the year 2012 Listed Top 50 Australian Guitarists Aust Guitar magazine 2012 VicTas Blues Awards Artist/Album/Song/Group/Soloist 2011 Official Patron Melbourne Blues Appreciation Society 2011 Listed 100 Gifted Guitarists TrueFire magazine, NY USA 2009 Voted #1 Blues Release WNCW North Carolina USA 2008 Voted Top 10 Hot New Guitarists Guitar Player USA 2007 Chain Blues Awards Band of the year (The Souldiggers) 2002 Vic Blues Awards Male Artist + Band Of The Year 1999 Australian Songwriters Jazz/Blues Song of the year 1999 VicTas Blues Music Awards Male Artist Of The Year 1998 BBC London Album Of The Month (Mystery Train) 1995 Memphis Blues Foundation USA Albert King Award 1995 PBS/MBAS Blues Performer of the year
1994 Lithgow Blues Awards Male Artist + Guitarist of the year
… Booking Enquiries… jupiter2records@gmail.com
Buy Tickets