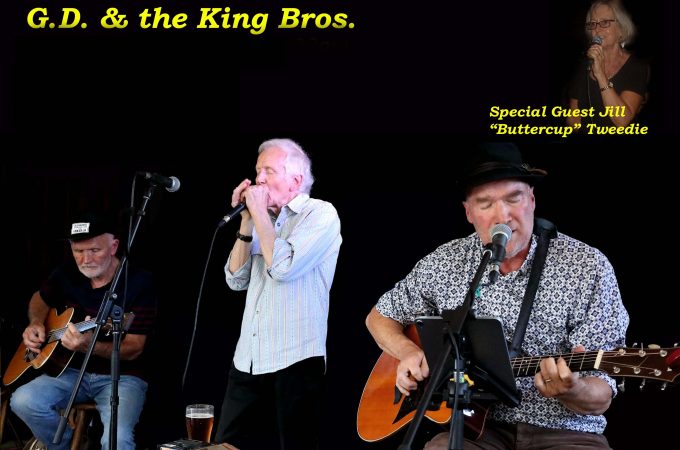 GD & the King Brothers
Friday
28 Jan
7:00 pm - 9:00 pm
Cascades
Sunday
30 Jan
6:00 pm - 8:00 pm
Keller Bar
GD (Graeme Druce) of blues and roots outfits Doggn'It, The Throwbacks and 12 Bar Dudes has teamed up with Ron & Jeff King from the Foreday Riders for a new venture in the acoustic blues trio format. The King Brothers have long worked in acoustic mode as an offshoot of The Riders, to play smaller, more intimate venues. Impressed by Graeme & John Cupit in their duo 'Doggin'It' with their original take on the blues, the King Brothers became acquainted with the pair, eventually sitting in with them on occasion.
More recently, Graeme has shown real interest in performing in the straight-ahead Chicago based blues and jump style favoured by the King Brothers. After finding compatibility in a casual 'jam' setting, the three decided to work up a night's worth of material. What has emerged is a smorgasbord of Chicago shuffle blues, swing, jump and boppish instrumentals, plus New Orleans style rumbas and Latin flavoured tunes – all served up with GD's unique voice and precise guitar work, Jeffs well-honed guitar and dobro licks and Ron's immaculate Chicago style harmonica lines.
Special Guest: Jill Tweedie, original singer with the Foreday Riders, has been singing with both the acoustic and electric line-ups of the King Bros, on and off since 1967, recording on 'Down Home Bebop' with Ray Beadle and 'Herding Cats' with Shane Pacey.
It all adds up to 100% Blues, 100% fun
Ron King                               Harmonica and Vocal
Jeff King                                Guitar and Dobro
Graeme Druce                     Guitar and Vocal
Jill Tweedie                          Guest Vocal
Buy Tickets