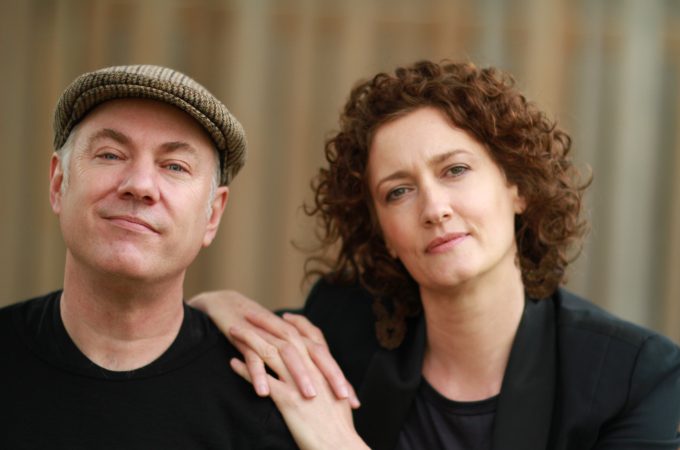 Jeff Lang & Alison Ferrier
Saturday
29 Jan
8:00 pm - 10:00 pm
Kosci Room
Sunday
30 Jan
2:00 pm - 4:00 pm
Alpine Bar
As 2020-2021 left many Melbourne musicians playing alone in the burrow of the longest lockdown in the world, co-habitant musicians Alison Ferrier and Jeff Lang soon realised they had another option. "Wanna make a record?" one of them stammered, and the project 'High Ace' was born.
As a wife and husband team, the project is imbibed with a rare synergy and they quickly stumbled upon a unique and almost magical song-writing method: deciphering strange incantations played in reverse, and what the unusual, twisting cadences of those vocalisations were telling them. They imparted strange tales of rattling drums and poisoned hemlocks.
While singing in harmony in every song on the album, their individual styles were given room to emerge – Lang's disturbed folk wanderings; Ferrier's bruising guitar riffs and solos – but the group of songs they wrote together has seen them visit a place neither of them had visited before.
For this special appearance at Thredbo Blues Festival they will draw on their songs from the 'High Ace' album and cherry pick other pieces from both of their extensive repertoires.
London born and raised Singer/songwriter/guitarist/violinist Alison Ferrier has released three solo albums and most recently has been touring and releasing music with the highly-regarded Opelousas, alongside Kerri Simpson and Anthony Shortte. Their debut album 'Opelousified' won Music Victoria Best Blues Album of the year
In a career spanning over 30 years and many stylistic twists, Jeff Lang has won three ARIAs, collaborated with Malian Kora virtuoso Mamadou Diabate and Tabla maestro Bobby Singh in Djan Djan, recorded and performed in India and Australia with Rajasthani Desert musicians in Maru Tarang and recorded an album with the US roots enigma Chris Whitley. He's toured the UK, US and Europe multiple times and played extensively in Asia, including appearances in major festivals in Japan, China and India. In 2021, Jeff published his first book – "Some Memories Never Die" – a fascinating and funny memoir of his life on the road.
Web: https://www.highacemusic.com/
http://jefflang.com.au/  & https://www.alisonferrier.com/
Social Media:
@Jeff Lang FB
@Jeff Lang Instagram
@Alison Ferrier FB
@Alison Ferrier Instagram
Buy Tickets