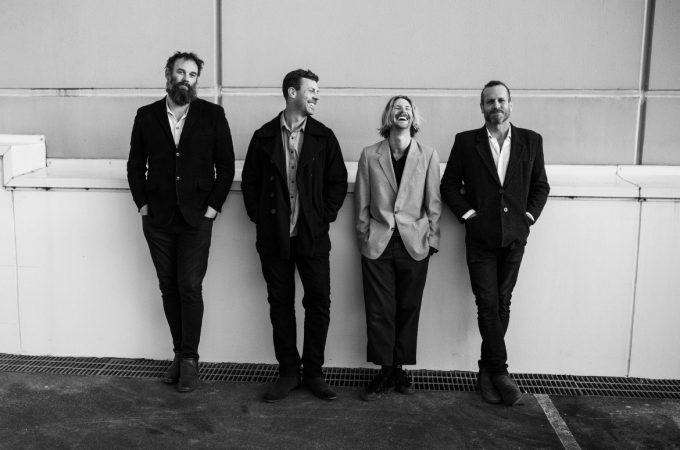 Tall Shaun & The Resolution Blues Band
Friday
28 Jan
11:00 pm - 1:00 am
Schuss Bar
Saturday
29 Jan
10:30 pm - 12:30 am
Schuss Bar
Sunday
30 Jan
12:30 pm - 2:30 pm
Eagles Nest
'I have never before heard a voice like yours on a show like this'
– The Voice judge Rita Ora on singer Shaun Wessel
Tall Shaun Wessel, the powerhouse vocalist who stunned the judges and wowed millions during the 2022 season of The Voice, will take to the stage with his band for a special showcase at the Milton Theatre on Saturday December 2 to launch their much anticipated blues-infused EP 'Resolution'.
In the twelve months since filming the top-rating TV show – in which all four judges turned for his commanding solo performance of the Allman Brothers 'Whipping Post' – Wessel knuckled down with his bandmates on home turf on the NSW South Coast to hone and record his own earthy original material.
Resolution is available on CD and vinyl. 
'I knew I had the songs, and I knew our band sounded great,' says the easy-going father of four who played NRL with the Cronulla Sharks and worked as a carpenter in a previous life. 
Over the past five years the four piece – then known as Tall Shaun and the Resolution Blues – built a loyal following playing regional festivals and local showcase gigs. 
'Then The Voice cracked the door open for me as an artist just a little,' says Wessel, 'and I figured we might as well try and charge right through it.'
The result is a punchy and polished eight-track EP.
'Resolution' is a diverse and enchanting suite of songs with roots that run deep into the blues, and branches that brush up easily against the laid back sounds of the '70s, alt-country influences and flat out raucous rock 'n' roll.
While Wessel is a bluesman at heart, 'Resolution' is no lament – the tracks are an examination and celebration of the things that matter most to him: family, community, friends and the joy of human connection.
'The record is unique and raw,' he says. 'They are proper, true songs and stories, and when I sing them I really bloody mean it.'
Wessel's gravelly, goose-bump inducing baritone growl is at the heart of 'Resolution' and the songs have been beautifully rendered by his bandmates – a musical chemistry that has been many years and many gigs in the making. 
In order to capture the authentic live sound they wanted, Wessel, Hayden Moore (drums), Brad Parsons(bass) and Ben McCormack (guitar) locked themselves away in a hillside homestead in Rose Valley on the South Coast. They hired local producer Syd Green (formerly on drums for Kasey Chambers), set up their gear, plugged in and let rip.
Sonically 'Resolution' feels like you're standing in a great room with a great band while they're having the greatest time of their lives. 
'It was a big, open- plan place with a lot of glass everywhere,' Wessel says of the ad hoc recording sessions, as the band tried not to get distracted by views that stretched down the emerald coastline.
'We brought in heaps of rugs and had DIY sound proofing hanging off the windows. It was fairly back-to-basics recording: y'know, guitar amps in the laundry and all that. It was organic and real, and we ended up with a lovely natural reverb – definitely the tone and the vibe we wanted.'
Although the sessions were mostly helmed by indie music veteran Green (who also contributed pedal steel guitar and piano), CMAA Golden Guitar winner Kevin Bennett, from celebrated Sydney roots music outfit, The Flood, made a guest appearance at the recording console.
'Kevin came in for a day and helped produce a couple of songs, which was mind-blowing to me,'says Wessel.
'Syd and Kevin's knowledge of sound and their nous in shaping songs is immense. We just soaked it all up and the end result is a bunch of songs with bite that cut right to the chase.'
Lyrically, 'Resolution' is a window into the soul of a man who has seen some ups and downs over recent years, but who manages to focus on the good days and the good people. Wessel says he knows no way to write other than with his heart on his sleeve.
Leave The Light On is a soulful, bluesy ode to his little girls, woven with unicorns, bedtime stories and a father's undying love. In the acoustically styled Forever Will Live On Wessel sings to his late father with gratitude for the times they shared and the life his dad has given him.
Black Dog is Wessel's response to the crisis in men's mental health, penned after he learned of the suicide of beloved NRL coach Paul Green in 2022. 'Because I was a football player previously I have seen a lot of footballers go down that road of suicide,' Wessell explains. 'It's important we address it, and this is my small way of doing that.'
In Keys To The City Wessel revels in the memory of his wife's 40th birthday when they 'went drinking and carrying on like scallywags in Sydney.' It's an old school, up-tempo rocker that makes you wish you'd been there with them.
The last number on the record, The Healing, takes its cues from the months and years after the black summer bushfires laid waste to much of the South Coast. 'We lost houses and we lost lives,' says Wessel. 'This song focuses on what happened after: how everyone stood back, took stock and healed together. That's what I love about this place – you know the town has got your back.
The gentle, hymn-like meditation on goodness and community spirit is a fitting closing track. 
'This record was paid for through fundraisers and people who support us,' says Wessel. 
'Putting this music out there is a thank you and a way of giving back.'
Tall Shaun are planning more shows over summer and will feature another local talent, Dan Sipple, on guitar, taking over from Ben McCormack who has gone off to explore Australia with his wife.
'Dan is an incredible player,' says Wessel. 'We can't wait to get out there and play these songs with him.'
Buy Tickets