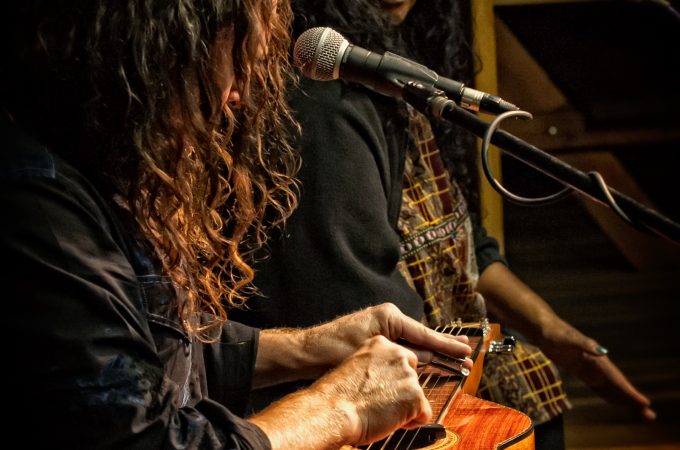 Phil & Trudy Edgeley Trio
Friday
28 Jan
6:30 pm - 8:30 pm
The House of Ullr
Saturday
29 Jan
8:00 pm - 10:00 pm
Candlelight
PHIL & TRUDY EDGELEY (Infusion of Soul, Blues, Gospel, Roots & Folk) High Powered & High Energy
They will have you mesmerised and there will be some very special moments, which will leave you wanting more.
Described by fans as uplifting, breath taking and chills down your spine.
PHIL & TRUDY EDGELEY
Phil (Weissenborn, Acoustic, Resophonic Guitars/Vocals) and Trudy Edgeley (Acoustic Guitar/Ukelele/Peruvian Drum/Vocals) are both Singers, Songwriters & Storytellers.  Their backgrounds are  Phil (Brass) and Trudy (Gospel), music is deep in their blood and they have made a sound of their own.  The musical partnership has seen them perform throughout the Australia, UK, Europe and the USA.  They have earnt themselves a reputation for striking original material and soulful shows drenched in power and dynamics.  Their harmonies, haunting vocals, tropical tempos, tribal beats, soul, folk, with a tingue of delta blues also throw in a little humour and interaction with the audience and the result is a show that draws the listener into a new and exciting place.
"A duo that really defines Roots music – engaging & confrontational.  A great experience. – Russell Morris
"There's a lot to love on these albums. Beautiful folk blues guitar that seems to lie somewhere between the delta and Soho in mid 60's, clear articulate vocal style and a heartfelf songwriting voice that never wrong-foots itself. Trudy's cajon really adds a new dimension."
Shane Pacey (Bondi Cigars, Shane Pacey Trio)
Phil not only find the percussionist of his dreams, but also a truly sublime singer-songwriter whose music brought elements of gospel, work song, Pacific Islander, and Indigenous melodies and rhythms to mix and match Phil's love affair with the Mississippi Delta blues of the '30s through '50s, with a dash of British traditional folk. They write separately, with Phil bringing nine to Trudy's three songs to the table, with Muddy Waters' "Can't Be Satisfied" and Curtis Mayfield's "People Get Ready", the latter sung by Trudy, making up the baker's dozen plus one, so Oneplusoneequalsthree is still pretty acoustic Delta blues-heavy, and the contrast when Trudy steps forward adds another really powerful layer to an amiable and, on the quiet, powerful collection.
Michael Smith, Rhythms Magazine
"Masterful guitarist and songwriter who performs with great heart and passion"
Jim Conway
"Phil and Trudy combine Blues & Roots with rhythmic patterns to make a powerful feast for the ears"
Brian Fraser
The Phil and Trudy Edgeley experience is one that transcends music into both a gentle reflection and passionate celebration of Life – wondrous and earthy narratives evoked with fire and grace. This is one of the great musical experiences Australia has to offer.' – Tim Huang & Calvin Welch – iHearMusic.com
Buy Tickets