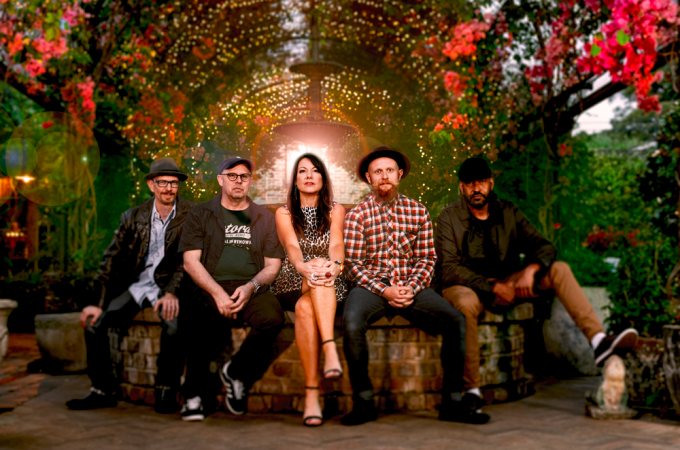 Kate Lush Band
Saturday
29 Jan
6:00 pm - 8:00 pm
Alpine Bar
Sunday
30 Jan
11:00 am - 1:00 pm
Merrits
Sunday
30 Jan
9:30 pm - 11:30 pm
Lounge Bar
Think Tedeschi with a dash of Aretha's Soul
& Bonnie Raitt's harder rock edge!
Gritty, soulful & straight from the heart.
U.S. Blues Blast Magazine
 Like Dave Hole & Fiona Boyes before her, it won't be long before Kate Lush becomes a household name among blues lovers in the U.S. Get on board before the tsunami from Down Under reaches our shores. You'll be happy you did."
With a raft of #1 albums & a brand new offering on the way, she combines forces with Steve Edmonds firing up a colossal celebration of Blues and Southern Rock with a dash or New Orleans 2nd line grooves.
Feat: Steve Edmonds on Guitar and vocals, Tony Boyd on Drums, Christian Young on Bass, Dave Weir on Sax & vocals & Wes Harder on Hammond & vocals.
Kate's albums have seen her chart internationally alongside the likes of Norah Jones, Tedeschi Trucks, Samantha Fish, Taj Mahal & Robert Cray & is one of Australia's outstanding Blues & Soul vocalists.
Despite the world being turned upside down, she also recently received a U.S. Blues Blast (Honorary mention), 2020 Unsigned Only Award (Best Blues), 2020 Canada's Blues & Roots Radio Award (Best Blues Band) and was 2020 Chain Award Nominated (Best Blues Artist & Best Album & Best Single).
She also performs with 'Evil Gal Blues' & 'Blues & Soul Extravaganza' shows.
REVIEWS
"Slick modern blues with Funk & attitude"
Steve Jones – U.S. Crossroads Blues Soc.
U.S. Steel Notes Magazine
'Wow! Is all I can say!' …'You'll be playing this over & over again.
What an epic CD, to say the least.'' 'All the hooks are there. You'll fall in love with 'Goodbye To The Rain'.  'Fall Down Seven Times' reminds me of Bonnie Raitt singing one of her great soul songs' 'Please everyone, just a little time to check her & the band out'.
U.K. Blues Matters Magazine
'Kate is a superb singer' 'her vocal style is a soulful one where she is equally at home singing ballads or covering more gritty Rhythm & Blues songs.'
'These tracks are commercial songs that I am sure will be picked up for radio play.'
Highlights
* 2020 Winner Blues & Roots Radio Canada 2021 for best Band
*2020 a Winner U.S. Unsigned Only Songwriting Competition (Blues)
* 2020 Chain Award Nomination for Best Blues Artist of the year,
Best Album & Single of the year
* U.S. Best International – Songwriter Assoc of Washington * U.S. Best Female IAMA
* Hon. Mention U.S. Blues Blast Awards
*  U.S. No. 11 Blues Album on RMR * U.S. RMR Top 20 all time albums for 2017
* #1 on ABARAC 2016, 2017 & 2019 * 2017 Australian Chain award for Best New Talent
* Finalist in U.S. IAMA Awards 2017 * U.S. ISC Semi-Finalist  2017 * ASA Finalist
* ASA Rudy Brandsma Excellence in Songwriting
* US Gibson Guitars Hatchfest New Musician award
Festivals
* Australian Blues Festival 2020
* Girrakool Festival Opening Event 2019
* Mainstage Blues on Broadbeach Festival 2019
* Canberra Blues Club Int'l Blues Day 2019
* Girrakool Blues Festival 2016 & 2018
* Longview Festival 2018  * Thredbo Blues Festival 2017
* Sydney Blues Festival 2017 * Winter Blues Festival 2016 – Entrance  * Mitchell Creek Blues Festival 2017 * Australian Music Week Festival 2016* Patonga Blues Across the Bay  2017
Kate Lush Band Website
https://www.facebook.com/kate.lush.7737/
YouTube
https://www.youtube.com/user/10ve4y0u
Spotify https://open.spotify.com/artist/7r1pKUy9TYZDA6wBtTFXiu?si=xCvES5ATSh64VbnltY75rQ
Buy Tickets